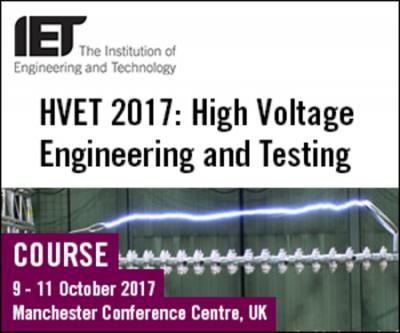 HVET 2017: High Voltage Engineering & Testing Conference Manchester 2017
Organization: The Institution of Engineering and Technology (The IET)
Location: United Kingdom, Greater Manchester, Manchester
Date: Oct 9, 2017
Date End: Oct 11, 2017
Description:
As the only training course of its kind, HVET boasts fantastic learning opportunities in the classroom & at the National Grid Power Research Centre - the largest HV lab at any university in the UK!
From the basics of high voltage power systems, to more advanced methodology and practice, this course covers individual components and fundamental aspects of high voltage testing techniques both in the classroom and in an active high voltage testing lab.
The IET HVET course prides itself on delivering essential engineering intelligence.
Information:
Price:
IET Member: GBP 1300
Non-Member: GBP 1600
IET Power Academy / Student: GBP 850
Retired: GBP 850
Category: Conferences | Engineering & Technology | Engineering
Time: on Monday October 09, 2017 at 9:00 am (ends Wednesday October 11, 2017 at 5:00 pm)
Venue details: Manchester Conference Centre, Sackville Street, Manchester, M1 3BB, United Kingdom