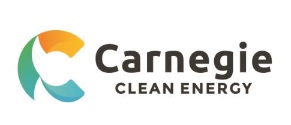 Carnegie Clean Energy Limited
Carnegie Breaks Ground on Garden Island Microgrid Project
---
Aug 28, 2017
Carnegie Clean Energy Limited (ASX:CCE) is pleased to advise it has commenced construction of the Garden Island Microgrid Project marking the occasion with a sod-turning ceremony attended by Hon. Joshua Frydenberg MP, Minister for the Environment and Energy, on behalf of the Prime Minister.

Construction has commenced on the 2MW solar Photovoltaic (PV) and 2MW/0.5MWh battery energy storage system (BESS) components of the Garden Island Microgrid (GIMG) Project which is the world's first demonstration of a solar, battery, wave and desalination microgrid. The GIMG Project will be the largest embedded, grid-connected solar and battery microgrid in Australia. Carnegie has recently signed supply agreements with the Department of Defence for the power and water produced by the Project to be used by HMAS Stirling, Australia's largest naval base.

The Project will also integrate with the existing Department of Defence diesel generators and the Western Power grid to demonstrate both off-grid and on-grid functionality of a microgrid and bumpless' transfer between these two operating modes.

Minister Frydenberg officially broke ground on the Project after a tour of the site of the 2MW solar PV array and the building housing the 2MW/0.5MWh battery energy storage system and control system.

Carnegie's Managing Director and Chief Executive Officer, Dr Michael Ottaviano said:
"We are delighted to have Minister Frydenberg present today to officially break ground on the Garden Island Microgrid. Carnegie Clean Energy is at the forefront in the design and delivery of renewable microgrid solutions that are revolutionary."

"Carnegie and Energy Made Clean have a strong track record in renewable and microgrid solutions like the Garden Island Microgrid at HMAS Stirling, the recently won microgrid at the Delamere weapons range base in the Northern Territory and previously for the Department of Defence on Bathurst Island in the Northern Territory. Renewable microgrids can deliver improved security of supply with clean, reliable power and water."

The Garden Island Microgrid is owned and operated by Carnegie. Carnegie's 100% owned subsidiary, Energy Made Clean, is responsible for the design, construction and ongoing maintenance of the Project. The desalination plant is already operational at the site. Construction of the solar and battery project is due to complete before the end of 2017. The $7.5 million projects is supported by the Federal Government with $2.5m of ARENA funding.

About Carnegie Clean Energy Limited

Carnegie Clean Energy Limited is an ASX-listed (ASX: CCE) solar energy, battery storage and wave energy, project developer with over 10,000 Australian shareholders. Carnegie is the 100% owner and developer of the CETO Wave Energy Technology intellectual property and is also 100% owner of leading Australian battery/solar microgrid Engineering Procurement and Construction (EPC) company Energy Made Clean (EMC). EMC specialises in the delivery of mixed renewable energy microgrid projects to islands and remote and fringe of grid communities. Carnegie is the only company in the world to offer a combination of wave, solar, wind, battery storage and desalination via microgrids which are ideally suited to islands, off grid communities and fringe of grid locations. Within Australia, Carnegie delivers its solar energy and battery storage projects via a joint venture between Energy Made Clean and multinational property and infrastructure company Lendlease (ASX: LLC).

About Energy Made Clean

Energy Made Clean is a leading solar and battery microgrid developer providing off-grid power and utility scale solutions. Recently named one of Australia's most innovative companies by the Australian Financial Review, EMC specialises in the delivery of mixed renewable energy microgrid projects, ideally suited to island, remote and fringe of grid communities. EMC offers an end to end renewable energy solution, dedicated to in-house research and development, custom design, construction, operation, maintenance and monitoring.

About ARENA

ARENA was established by the Australian Government to make renewable energy technologies more affordable and increase the supply of renewable energy in Australia. Through the provision of funding coupled with deep commercial and technical expertise, ARENA provides the support needed to accelerate the development of promising new solutions towards commercialisation. ARENA invests in renewable energy projects across the innovation chain and is committed to sharing knowledge and lessons learned from its portfolio of projects and information about renewable energy. ARENA always looks for at least matched funding from the projects it supports and to date has committed $1.1 billion in funding to more than 270 projects. For more information, visit www.arena.gov.au.

Click here to read the full press release.
For more information :